St Michael and All Angels, Aston Sandford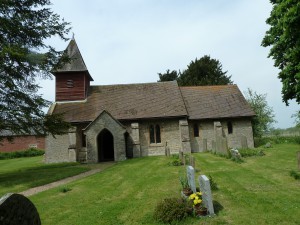 Aston Sandford is reputed to be the smallest village in England, comprising just ten houses, the Church, a farm, a business park and a letterbox. It sits astride a single track, no through road, leading off the road from Haddenham to Longwick and Princes Risborough/Thame.
The Congregation
Our typical monthly congregation is about 35 in number with almost all taking Communion. Of these, about 8-10 will be village residents and the remainder come from neighbouring villages. The Easter Sunday and Harvest Festival services tend to attract a few extra people and numbers have been known to increase to around 70 for the Christmas Eve service. Those attending from surrounding villages say they prefer to come to the quiet, traditional, reflective style of service rather than attending the Church in their own village where the main service is often a more modern style of worship with young children. Whilst the average age of the congregation is high it remains fairly constant as new members come to the Church. There are 21 people on the Electoral Roll of whom 8 are resident in the village. The PCC meets formally once a year at the annual Vestry meeting but any matters arising during other times of the year are dealt with at informal meetings after services or ad hoc, as necessary.
Services and Community Outreach
Aston Sandford holds a Communion service on the third Sunday of each month and services on Easter Sunday, at Harvest Festival, on Remembrance Day and a Carol Service on Christmas Eve. The services are all traditional in style using Common Worship Order 1. After services the congregation is invited to coffee in one of the houses in the village. There is no village hall or equivalent building. On average there are a wedding and baptism every couple of years and one or two funerals a year.
The Church Building
The Church dates back to the 13th Century and can accommodate only about 50 seated people. It was extensively remodelled in the 1870s to its current form. The roof tiles and bell-cot shingles were completely refurbished in the mid 1990s. There are three bells hanging in the bell-cot. These were renovated 25 years ago. A few of the congregation are being encouraged to learn how to ring the bells so they can be used more often.