The Wychert Vale Benefice is seeking a new Rector!
If God is giving you itchy feet, please look at our advert, as here may be where you are supposed to be……..
Church Services during Coronavirus
Like all churches in the country, we are not holding services in our churches for the time-being. Nevertheless, we do intend to provide worship opportunities  for people in their own homes and have setup our own Youtube channel which can be found here:
Wychert Vale Youtube Channel with the most recent videos below.
Morning Prayer: The order of service for our weekday morning prayer with link to our Zoom gathering is here
Our Harvest Festival Activity Pack is available for downloading by clicking on the graphic below!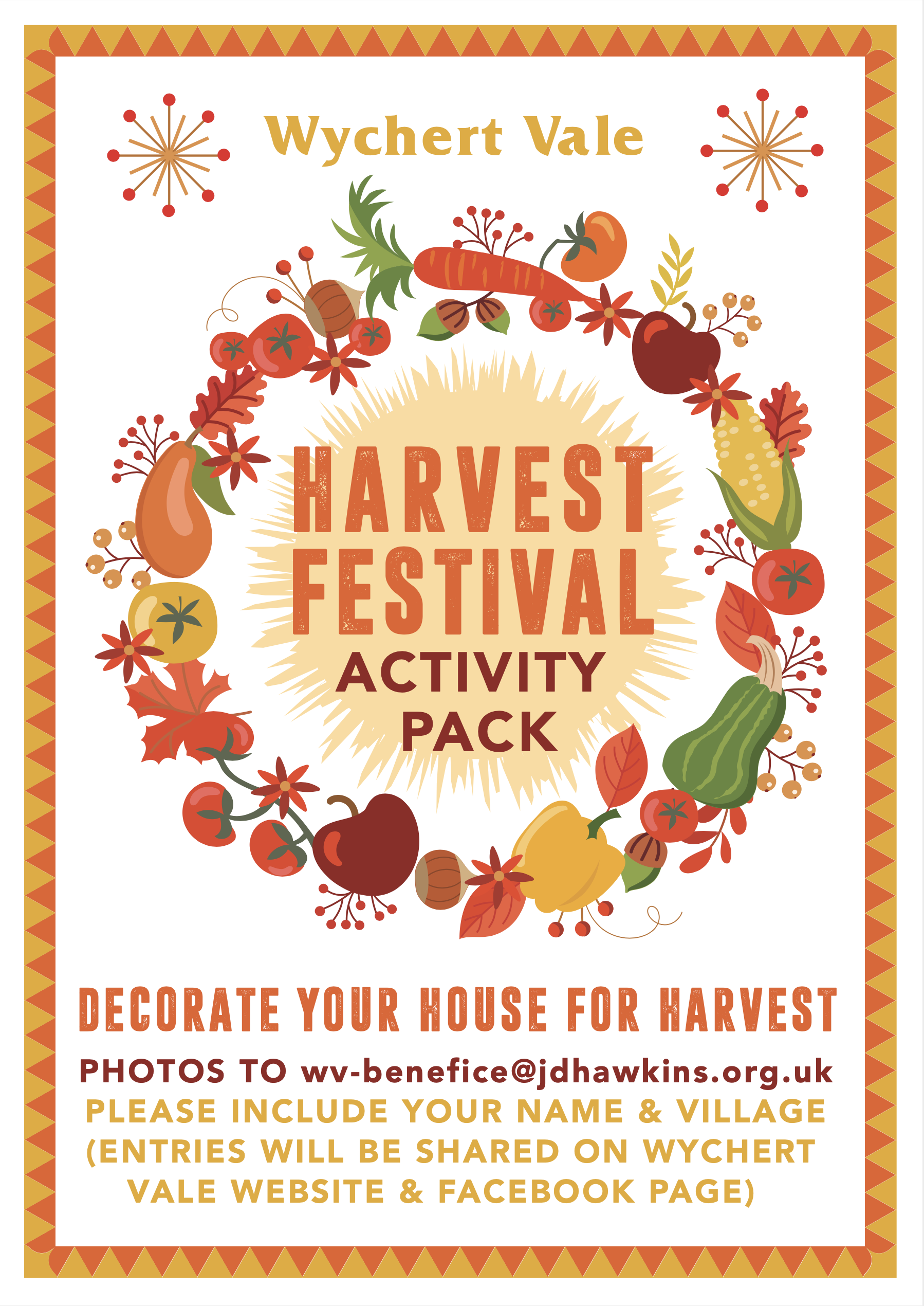 Information about our current sermon series based on the book 'Receiving Jesus' can be found here
A helpful guide on praying for the NHS and Social Services
Written by Richard Smith, Consultant at Stoke Mandeville and member of Stone church, the guide can be found here
We will be uploading content on as regular a basis as we can. These can be found on our Youtube Channel as per the link above or you can go to the YouTube tab top right on this site.
************************************
Welcome to our Benefice
Wychert Vale Benefice is a network of churches serving a group of vibrant and growing villages between Thame and Aylesbury in Buckinghamshire. Our leadership is team-based with many lay and ordained people working together.
Building together for Mission
When seeking a name for our benefice we found that our local building material, 'Wychert', is unique to the villages in our part of the Vale of Aylesbury. Taking the name Wychert Vale reminded us that, in our lives and mission together, we are building a dwelling place for God's Holy Spirit (1 Corinthians 3:10-16). Follow the link here for a reflection on our name.
Our vision and values
Wychert Vale was formed by joining the Haddenham Benefice with Stone and Dinton with Hartwell. Wychert Vale became a new benefice on 1 March 2016 after many years of prayer, planning and getting to know each other. We held a service to celebrate our new benefice on Palm Sunday evening, 20 March 2016, where we formally signed a Covenant agreement. We have been enjoying doing more together in the last few years and continue to see great potential for growth as a larger benefice.
The Wychert Vale Covenant emerged from our discussions and prayer together. It sets out how we want to relate to each other and gives our vision and values:
We agreed four Covenant Principles for working together:
To share resources of all kinds.
To get to know one another and to work with, listen to, support and value one another.
To determine to play our part gracefully in the improvement and strengthening of communications throughout the new benefice upwards, outwards and benefice-wide.
To commit ourselves to ongoing prayer.
We discovered three emerging Covenant Purposes:
Worshipping God
Serving Community
Sharing Life
These help us to focus our role as the Body of Christ in our villages and have become the 'motto' or 'strap line' of the new benefice.