We are looking for an Associate Minister on a House for Duty basis.
Are you looking for a short term, part time post within easy traveling distance of Oxford and London – this could be it!
Details can be found on the Diocesan web site
Wychert Vale has a new Rector!
Today is Advent Sunday, the traditional start of the church's year, and so is a very appropriate time to give news of the start of a new chapter in the lives of the churches in our benefice.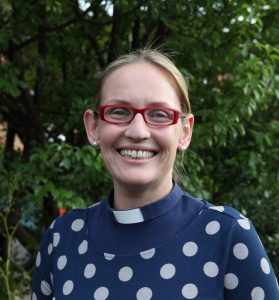 The churchwardens are pleased  to announce that the Revd Cassa Messervy has been formally offered the  position of rector of our benefice by the Bishop of Buckingham and has accepted.
Cassa is presently vicar of Holy Trinity Church, Seer Green and Jordans, and Assistant Area Dean, Amersham Deanery.
It is hoped that she will move to Haddenham during the Easter school holidays with her licensing service in April. We will keep you updated.
Please remember Cassa and her family in your prayers and also the other candidates who put in much time and commitment in applying but were unsuccessful.
A new phase in the life of our Benefice is beginning which no doubt will be exciting and challenging as God leads us forward.
Church Services during Coronavirus
Like many churches in the country, we are holding a limited number of services in our churches. At the same time we continue to provide worship opportunities  for people in their own homes through our own Youtube channel which can be found here:
Wychert Vale Youtube Channel with the most recent videos below.
Morning Prayer: The order of service for our weekday morning prayer with link to our Zoom gathering is here
A helpful guide on praying for the NHS and Social Services
Written by Richard Smith, Consultant at Stoke Mandeville and member of Stone church, the guide can be found here
We will be uploading content on as regular a basis as we can. These can be found on our Youtube Channel as per the link above or you can go to the YouTube tab top right on this site.
************************************
Welcome to our Benefice
Wychert Vale Benefice is a network of churches serving a group of vibrant and growing villages between Thame and Aylesbury in Buckinghamshire. Our leadership is team-based with many lay and ordained people working together.
Building together for Mission
When seeking a name for our benefice we found that our local building material, 'Wychert', is unique to the villages in our part of the Vale of Aylesbury. Taking the name Wychert Vale reminded us that, in our lives and mission together, we are building a dwelling place for God's Holy Spirit (1 Corinthians 3:10-16). Follow the link here for a reflection on our name.
Our vision and values
Wychert Vale was formed by joining the Haddenham Benefice with Stone and Dinton with Hartwell. Wychert Vale became a new benefice on 1 March 2016 after many years of prayer, planning and getting to know each other. We held a service to celebrate our new benefice on Palm Sunday evening, 20 March 2016, where we formally signed a Covenant agreement. We have been enjoying doing more together in the last few years and continue to see great potential for growth as a larger benefice.
The Wychert Vale Covenant emerged from our discussions and prayer together. It sets out how we want to relate to each other and gives our vision and values:
We agreed four Covenant Principles for working together:
To share resources of all kinds.
To get to know one another and to work with, listen to, support and value one another.
To determine to play our part gracefully in the improvement and strengthening of communications throughout the new benefice upwards, outwards and benefice-wide.
To commit ourselves to ongoing prayer.
We discovered three emerging Covenant Purposes:
Worshipping God
Serving Community
Sharing Life
These help us to focus our role as the Body of Christ in our villages and have become the 'motto' or 'strap line' of the new benefice.