The Rededication of the Easter Altar Frontal at  St Nicholas' Church, Kingsey
The Rededication of the Easter Altar Frontal at St Nicholas' Church, Kingsey will take place at the 6.30pm Evensong service on Sunday 30th April 2017.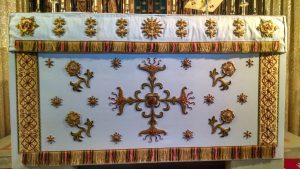 This beautiful Easter Altar frontal was designed and made by Lady Georgiana Wykeham, shortly after St Nicholas Church was built in 1893. Over the years, the frontal had deteriorated and by 2016 was in poor condition. After taking advice it was decided to repair and re-mount the existing embroideries onto new fabric. The project was supported by people in the village, with Kingsey resident and Royal School of Needlework graduate Elizabeth Bond as the lead stitcher. We were especially grateful for an Aylesbury Deanery Mission Grant.
During the 2016 school summer holidays our Church was open for the Friday, Saturday and Sunday of five weekends, from 10am until 5pm. People were able to view the restoration project and were shown how to stitch. Church members were able to talk about the project itself and the history and worship life of our church. During that time we welcomed 290 people, of which 135 put a stitch (or two) into the altar frontal. They arrived by car, on foot and by bike, and we also welcomed six dogs with their owners.
There were refreshments available, and some people came several times to see the progress being made. Our youngest contributor to the sewing was three, and many families came along together to put their stitches in. The project was so successful that Elizabeth was unable to complete the project in the summer holidays! More work continued over the winter and the frontal was finally completed in time for Easter Sunday 2017.
Our service this evening is to celebrate the restoration of our frontal in the season when we celebrate the resurrection of our Lord. Bishop Alan has kindly agreed to bless and rededicate the frontal and this service also gives us each an opportunity to rededicate our own lives to Christ.
Finally we wish to give sincere thanks to those most involved in the project: Elizabeth and Mark Bond. Without their dedication last summer and through the winter, we would not be holding this service.