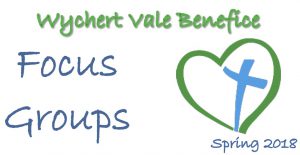 Wychert Vale is a network of Christian communities that connect together. Church is about building relationships, worshipping God, sharing the ups and downs of life, growing and sharing our faith, and reaching out to a world in need. Focus Groups are a way of getting together in smaller, informal settings and exploring these issues.
Spring 2018: Weeks beginning 22nd Jan, 5th, 19th Feb, 5th, 19th March, with a final session either on week beginning 26 March (Holy Week) or week beginning 2 April (Easter Week).
What time of the week will these groups happen?
These groups are evenings. You can find a group to fit your own free time.
Is this like a Lent Course?
Yes! They begin just before lent but we have especially chosen themes that are suitable for Lent and to prepare for Easter.
I'm already in a homegroup, can I join a focus group as well?
Yes! Focus groups are similar to homegroups but are time limited and have a specific focus. If you are already in a homegroup, you may like to try a focus group alongside for a term.
How do I book?
You can fill out the booking form and give to the benefice office, or write to: office@wychertvale.org or phoning: 01844 291108. Please give your name, contact details and preferred group.
Worshipping God, Serving Community, Sharing Life
Focus Groups in Spring 2018
Journey through the Lord's Prayer:
Fortnightly on Mondays 7.45pm for tea/coffee. Start 8pm; finish by 9.30pm Leader: Nadine Rose
Starts 22nd January
Location: Stone Methodist Church. Eythrope Road, Stone, HP17 8PG
This Prayer Course with Pete Greig and Jonny Hughes will have six interactive sessions covering topics such as adoration, intercession, dealing with disappointment, learning to listen.
Understanding the Bible
Fortnightly on Thursdays: 7.30 for 8.00pm start. End by 9.30pm Leader: Gordon Kuhrt
Starts: 25th January
Location: St Nicholas Church, Cuddington
The Scriptures – their origin, collection, different genre, translation, interpretation and authority – with powerpoint, discussion, Qs etc
Nurturing Young Disciples
Fortnightly on Wednesdays; 7.30-9.30pm
Leader: Phil Groves
Location: Rose Room, St Mary's Centre, Station Road, Haddenham
Starts: 24th January
Nurturing Young Disciples
A short course to consider how we nurture our children so they become mature followers of Christ.
We welcome families into all our churches and the nurture of children is at the heart of the Mission Action Plans of most of our parishes. We can gain the interest of young children and their parents, but how are we to nurture them to be disciples of Christ? This course is for anyone who wants to see our young people grow in faith and proclaim Jesus to a needy world.
The course will begin with a review of where we are – the models our churches employ for discipleship. We will consider how Jesus saw children and think theologically about what we are doing. We will then look at potential policies for discipleship and how they could be developed in our churches.
Eco Church
Fortnightly on Thursdays: 7.30-9.30pm Leader: Martin Hodson
Location: Haddenham Vicarage
Starts: 25th January
Caring for God's world is part of our calling as Christians. Join this group to be inspired in fresh ways to demonstrate God's love through caring for creation. It includes: practical ideas for buildings and land; lifestyle issues; looking at our worship and teaching; and connecting to global and community priorities.
There are 6 Essentials for each of our Focus Groups:
  The overall aim for each group is for people to grow in faith.
  There will be easy opportunities to pray with people in a natural way.
  There will be something from the Bible. This might be the focus of some groups. For others it might be a short reading at the start or end of the session with a brief thought to connect to the activity focus of the group.
  Sharing food. This could be as simple as bringing cakes to share together when you meet, or it could be an occasional shared meal. Meals are very prominent in the Bible and really help people to relax and belong.
  The groups will be time limited – typically six sessions over 12 weeks and then a break before groups start again.
 Each group has a special focus. This might be a theme of teaching or might be a practical or artistic theme.
Christian
Thursdays 25 Jan
8 Feb
22 Feb
8 Mar
22 Mar
Maundy Thursday service in Kingsey or 5 Apr
Mondays 22 Jan
5 Feb
19 Feb
5 Mar 19 Mar 26 Mar
Summary Tuesdays
23 Jan
6 Feb
20 Feb
6 Mar
20 Mar
27 Mar or 3 Apr
of Dates Wednesdays
24 Jan
7 Feb
21 Feb
7 Mar
21 Mar
28 Mar or 4 Apr
How do I book?
You can fill out the Focus Groups Sign up form, print it out and give it into the benefice office.
You can also book by writing to: office@wychertvale.org
or phoning: 01844 291108. Please give your name, contact details and which group you would like to join.